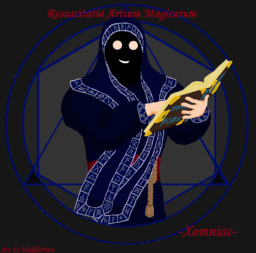 Source
TV TROPES PAGE! Show it the love, people!
Tartarus: the fabled prison said to hold all of the demons of Equus at bay.
Few truly know what lies behind the impenetrable doors Cerberus guards. Some say that it is a pit, infinite in it's depth and darkness, from which there is no return. Other claim it to be a hellish plain, filled with fire and pain and suffering, to punish the demons for their sins.
All of them are wrong.
Tartarus is small. An inescapable cell for a single prisoner. But the tales about it's purpose are not false.
For this captive human holds the key to unleashing upon Equestria forces which have not been seen for centuries, forces which predate Equestria by many an age.
And soon, he shall be free.
EDIT: Featured on 5/25/14! SUH-WEEEEET!
Chapters (29)