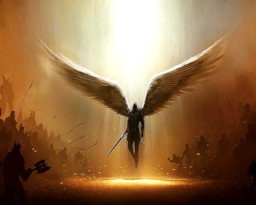 We all know how this goes, don't we? Some unlucky schmuck goes to a Halloween party or convention dressed up as someone evil, gets sent to Equestria, and then ends up antagonizing the locals.
Well my story goes a bit differently. My name is Isaac Donohue, and after a night of drunken partying that I STILL can't remember, I wake up in Equestria fifteen hundred years before the events of canon with five seemingly random superpowers:
Angelic Physiology, so I'm frickin gorgeous now. Oxygen Independence, so I don't need to breath. Asexual Reproduction, just call me Mister Mommy why don't you...Bubble Breath, something useless that I rarely use. Power Replication, otherwise known as a game breaker.
So anyways I befriended everyone's favorite draconequus Discord, and we made such beautiful chaos together. Well, it was more of me trying to reform him before he got stoned by the Princesses in an effort to change history for the better. What a waste of time that was, and as a result of this I got petrified as well for being his accomplice. Can you believe that?
Since I'm free, I've decided to settle down and rule a kingdom of my own. I'm sure there are enough tyrants in the world that need to be overthrown despite Sunbutt's best efforts. But if there aren't any, I'm pretty sure I can steal the Crystal Empire from Sombra before Shining Armor and Cadence do.
The only problem is, THE LAW WON'T STOP CHASING ME!
A LoHAV story that I'm writing as I go on.
ANNOUNCEMENT 6/4/2017: I'm sorry, but this story is cancelled. This has been a long time coming. As I've progressed as a writer I look back on this story with increasing amounts of disgust. Still, I know people enjoy it for some reason which is why I'm leaving it up for posterity's sake. Maybe I'll completely rewrite it from the ground up in the future, but that time is not now.
Chapters (24)