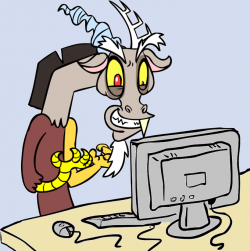 Source
Marcus was just another Brony who spends far to much time on the internet, he had few friends, and spent what little of his time not dedicated to ponies on Left 4 dead. After passing out late at night on the keyboard reading another cliche Human in Equestia fanfic, he awakes to find himself in a strange and colourful land... as a Draconequus....
Just what happens when you take a well-meaning looser with mild psychopathic tendencies and give him phenomenal, god-like cosmic power, and let him loose in Equestria to run around blindly without any clue whats going on.
Having far to much power for his own good, Will he manage to restrain from accidently killing himself, let alone anything he encounters. Will he will learn that with great power comes great responsibility?Unlikely. Gore in later chapters.
Chapters (6)