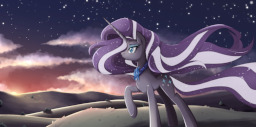 Source
Off shoot of: My Little Pony: Friendship is Magic - Off the Record.
After several nights filled with horrible dreams, Rarity comes face to face with the dark side of her soul in her sleep, as it attempts to convince her that she is truly a horrible pony on the inside.
During this battle within Rarity, the entity that once controlled Princess Luna takes notice of her momentary weakness, and decides to use the opportunity to seize one of the Elements of Harmony, as to guarantee her safety from being sealed away once again.
However, the overflowing dominance from Rarity and her dark side, starts to crawl into Nightmare's mind, making her question whether or not she should continue with trying to conquer Equestria, or perhaps take a different route.
---
Cover art here! It was money well spent!
http://jinzhan.deviantart.com/art/Nightmare-Rarity-440977340
Chapters (2)