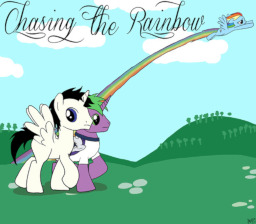 Off shoot of: My Little Pony: Friendship is Magic - Off the Record.
Alex is teleported 3 months in to the future, where he finds that winter has passed, and Rainbow Dash is gone.
Now, he and Spike must set out to Manehattan in an effort to make things go back to the way they used to be.
On the way, they meet all sorts of new ponies. From a cheeky butler, to a creepy middle aged pony named Cuddly.
Can they catch the Rainbow before they run out of time?
Chapters (1)