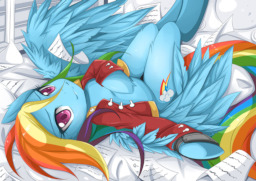 Source
Sequel to: My Little Pony: Friendship is Magic - Off the Record
Time has passed, and Rainbow Dash has finally gotten her hooves on a spell to free Alex from his stone imprisonment, through her work as a Captain of the Royal Guard.
During that time, she's made enemies, and she's made mistakes that she only hopes she can be forgiven for. But, Finally, she gotten a lucky break, and finds the spell she can use to bring Alex back to them.
Now she's ready to resume her old life, no matter what is thrown at her... But, things always tend to get complicated, don't they?
Cover art by: JinZhan. I commissioned this, and am REALLY happy with it.
Also, there is a tiny bit of editing still to be done, but that's coming.
Chapters (2)