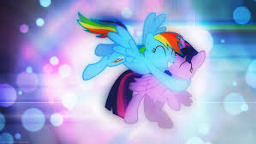 Source
Rainbow Dash would always be there for Twilight, even when her other friends are not. Something is not right in Ponyville. Since her coronation as an Alicorn Princess, Twilight has been blamed for things she clearly didn't do, and everypony but Rainbow, Scootaloo, and Spike have disowned her. However, this is not just an emotional struggle. With the Elements in disarray, all of Equestria is in danger as an old enemy returns...
Contains: TwiDash, Scootadopt, Gore, Violence
Thanks to Surry, LightningBass94, and twidashforever. Without them, this story wouldn't have been possible.
Partially inspired by the story The Truth in Meanings by Twidashforever
Chapters (19)