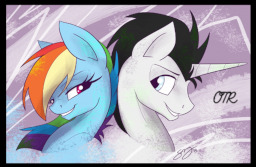 [General Description At the Bottom]
Omnipotence was truly… Beautiful. But the 'holier-than-thou,' attitude sorta ruined it for him.
"Tell me," She asked, her tone nothing but condescending, as she leaned toward the face of the entrapped pony in front of her, "You think yourself important?"
"Important?" Alex asked, scratching his chin as best he could inside the levitation spell that held him in place, "Maybe?"
"Truly an impressive answer," She scoffed, an ugly scowl plastered across her face, "You assume, that slightly altering the chain of events in a universe, could ever make you worth something? Pathetic."
"That hurts!" Alex half-grinned, feigning shock to her, "Between the time travel, the split personality, and the big wedding, I think I've made some sort of impact."
"You couldn't be more wrong," She laughed, squinting lightly at him for just a moment, "Dust in the wind, was it?"
"Great song, but inappropriate use, if you ask me," Alex smiled, unsure if her prodding through the events in his head was something he should praise her for, "But, if you're so sure that I lack importance, you need to start from the beginning. Not when you showed up last week. Not when Scootaloo and her friends saved Equestria. Not when King Sombra was turned to dust in front of his old subjects... Not even when Discord was freed from his stone imprisonment, and tried to take over Equestria again. The very beginning. Nightmare Moon, and the return of Princess Luna."
She gave him a sick smile, entertaining the idea. Perhaps it would be interesting to see things from such a... puny perspective. To see the series of events unfold. Of course, it could also be a waste of her time…
"Fine." She said, slowly placing him on the ground, and resting her horn against his, "Let's start from the beginning."
"Get ready sweet heart," Alex said, licking his lips and winking at her, as she closed her eyes and focused deeply, "It's one heck of a trip."
////
Basically, a guy goes to Equestria to episode 1 of the series, and he changes the whole playout of the series, adding a bunch of side stories and different paths for some characters to take.
And, he's an alicorn OC.
Yeah yeah, I get it.
Off you run and cry about it. I've heard about it twelve million times. Literally. Not Hyperbolically.
If you insist on calling him a Gary Stu, and a self-insert, I'll assume you're flirting with me, and calling me perfect, since a Gary Stu tends to have no flaws .
So unless you plan on taking me out, and maybe getting some wine in me, don't go calling me perfect.
Thanks!
////
Cover art was done by Famosity! Here is a link:
Chapters (194)