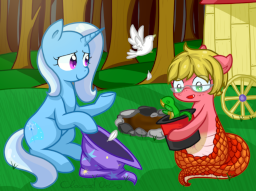 Source
Trixie is anything but an ordinary stage magician, so it goes without saying that only a unique kind of assistant should accompany her.
Without even intending it, that's exactly what she gets, along with all the headaches and life lessons that come with it.
---
Set in the Trio-verse, an AU where Celestia was banished instead, and Luna took up Sunset, Trixie and Twilight as her students. Cover art provided by Cloureed.
Chapters (11)