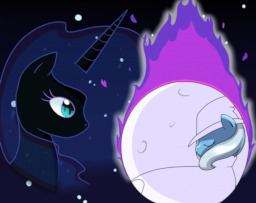 This story is a sequel to Midnight's Radiance
---
'By Shadow's Flare, dreams swallowed in Nightmare.'
---
Eternal night, unwaking slumber.
When everypony in Equestria is trapped within their own nightmares, it's up to one pony to save them.
Okay, one pony, and a changeling queen ... and maybe a former enemy. And also a baby dragon, as well as a shy filly?
No, wait-
There's only one pony to save them! A pony who will dive into her friends worst nightmares without even batting an eye! A pony that'll uncover ancient secrets in order to end this eternal night!
Who is this pony, you may ask? Why, none other then The Great and Powerful Trixie~!
Rest assured, Equestria is in good hooves.
---
Thanks to Cloureed for the cover, as always~!
Set in the Trio-verse, an AU where Celestia was banished, and Luna took up Sunset, Trixie and Twilight as her students. Recommend reading Luna's Protégé and Midnight's Radiance first.
Chapters (6)