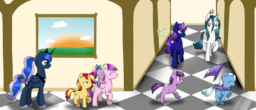 Source
This story is a sequel to Luna's Protégé
---
Growing up is an adventure. Especially when it takes place under the tutelage of Princess Luna! Under her care, Twilight, Trixie, and Sunset are now friends. However, they're not quite PBFFs, yet. And since they've barely begun being Luna's Protégées, there's still a great deal left for them to learn.
Naturally, since they're still fillies, there will be some missteps, mistakes, and even the odd problem or two along the way. But, it's nothing they can't handle, as long as they have each other!
---
Direct sequel to Luna's Protégé
Set in the Trio-verse.
Chapters (7)