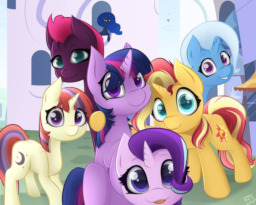 Source
It's strange how a single change can create a massive difference in somepony's life.
Somewhere in a different world, Twilight Sparkle is thrust into an unforeseen destiny with the most unlikely (and possibly unstable) group of friends to fight the forces of darkness and bring the magic of friendship back to Equestria.
That's if they don't kill each other first.
---
Inspired by Lets Do This' "Not Exactly Friends" series
Cover art done by Kids-In-The-Corner
---
Check out the rest of the series here:
Part 2: Pony Tails
Chapters (8)