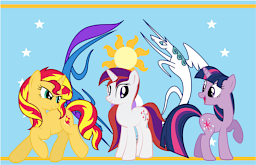 Twilight Sparkle, Sunset Shimmer, and Moondancer are the top students in Celestia's School For Gifted Unicorns. One is a dedicated bookworm with a love of learning, other is an outcast full of ambition, while the last one just wants to enjoy life... a lot.
Connected with unlikely friendship, together, they fight crime live their lives, one day at a time.
(Sometimes they fight crime, too)
---
While it is set in Stallionverse, knowledge of previous stories is not required (you'll miss a joke or two at worst).
Teen rating and sex tag for slightly edgier humor, innuendos and Moondancer.
Guest chapters provided by the ever talented Eyeswirl the Weirded. You can't hug him through internet (you can try), so give him love by checking his stuff- quality guaranteed.
My own chapters are edited by the ever kind and generous Docontra, whose patience knows no bounds.
Chapters (52)