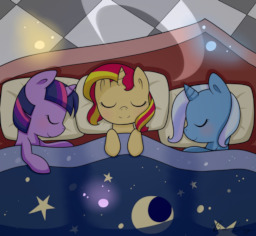 Source
Being the Princess of Equestria is busy work. Luna would know. She raises the sun and moon everyday, looks over the dreams of her beloved subjects, and, well, runs Equestria. Now, in addition to all that, she must find herself a protégé, before her sister's banishment ends!
But, that isn't the problem. The problem, is that three particular fillies stand out for the role!
Who will she choose? Can these three fillies become friends? Who will become Equestria's future savior!?
I guess you'll have to read to find out~!
---
First story of the Trio-verse.
Cover Art commissioned by Cloureed. Thanks again~!
Also want to thank Izanagi for the help with editing!
Chapters (5)