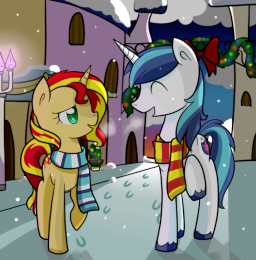 Source
This story is a sequel to Midnight's Radiance
---
Sunset finally has time alone with Shining Armor. Naturally, she's too distracted to take advantage of that, thanks to what everypony's been saying.
She's the one that saved the princesses. The one that saved Equestria. 'Sunset Shimmer the Hero'.
But Sunset, she just wants to change. She wants to become a better friend, and be closer to the ponies important in her life.
So just how is she supposed to do that, if those very same ponies want her to be the hero everypony believes her to be?
---
Thanks to Cloureed again for the cover!
Set in the Trio-verse.
Chapters (3)