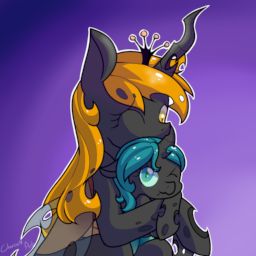 The Changeling General, war hero, driven to win at any cost. The Moon Princess, Equestria's guiding light, seeking to protect her ponies from an unseen threat.
Between these two, a secret war was waged. Between these two, stood a young changeling princess: Chrysalis
Born of a different color from her mother's hive, Chrysalis finds herself being drawn towards the center of the conflict. With those she holds dear backing her, she'll march into the heart of this war, changing the fate of her race. For better, or worse...
---
Set in the Trio-verse, an AU where Celestia was banished, instead of Luna. No prior reading required.
Want to give my most sincere thanks to Seiya, Llyrisviel, and docontra for their help editing this tale.
Chapters (29)