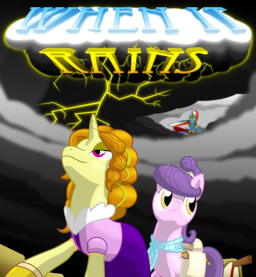 Once upon a time in the magical land of Equestria...
That's how these stories usually start, but in a world where heroes of legend fell to corruption that once great nation is no more, and now only lingering divided remnants exist in its stead.
Enter Adagio Dazzle, a young and ambitious noble eager to prove herself and what better way to do so then by hosting the annual memorial festival. Unfortunately this year's commemoration is to be held in Ponyville where she must contend with an overzealous political extremist, an insane chef, a belligerent team of forest rangers, and an uncooperative weather patrol.
To make matters worst within the nearby untamed wilds of the Everfree Forest a storm is brewing. Not just any storm, but a herald of ancient evils soon to return.
For as the old saying goes, when it rains....it pours.
Now with a TV Tropes page!
With special thanks to RainbowDoubleDash, Talon and Thorn, and especially Emeral Bookwise for all their advice and feedback as pre-readers and editors!
Cover art by the talented Gates McCloud.
Chapters (13)