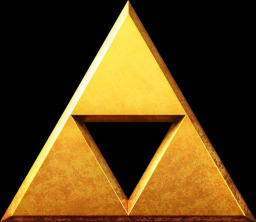 Cutie Marks are an everyday, but extremely important aspect of pony life. They showed a pony's greatest skills and talents, interests and aspirations, some would go so far as to say that they allowed a glimpse at a pony's very soul itself.
If you could interpret the darned things, that is. Something that, more often than not, was easier said than done, especially when one considers the myriad of ways even the simplest of symbols can be interpreted and analyzed, and the many, many meanings even the most basic of marks could have.
As such, upon making three strange new friends with very similar and unique-looking Cutie Marks, young Singing Blossom couldn't help but wonder: What did their Cutie Marks mean?
---
---
This is a Canon-Compliant Omake for my story The Power of Freedom, meaning that basically what happens here happened off-screen in the main story.
In this, we see Singing finally getting her answer to the question she first tried to ask Ganondorf during chapter V, about what his Cutie Mark means.
Timeline wise this tale took place around chapters XI to XII of the main story.
Beta Reader: The Amazing Emtu!
Featured! 05/28/2021;05/29/2021; 05/30/2021
Chapters (1)