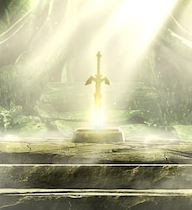 Legendary swords, items of power and magic, great artifacts that can topple countries and raise kingdoms when wielded by those worthy of their supernatural might. They are the greatest of arms, wielded by heroes and villains alike as they battle fate itself.
As such, as the wisest of sages can easily attest, there are very good reasons why any sane being would do well in keeping such dangerous artifacts well contained and safely hidden away from prying eyes and unworthy hands until such times when their mighty powers may be needed once again.
So the fact that both Link and Ganondorf lost their legendary blades as they traveled through the void towards ancient Equestria may be something of a problem…
---
---
This is just a fun little, non-canon, Omake to my story The Power of Freedom, depicting one of the many possibilities that could've come to pass due to Link and Ganondorf losing their swords mid-travel as they reached ancient Equestria.
Reading the main story isn't necessary to appreciate this, but it would make it far more enjoyable.
Proofreader: The relentless TranquilClaws!
Chapters (1)