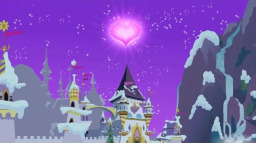 Source
Hearth's Warming Eve. The wondrous celebration of friendship, warmth and joy, held during the most cold and unforgiving days of winter.
Everypony wishes for something on this day: presents, good fortune, excitement, perhaps even true love. Whatever it may be, above all, they wish for nothing but happiness.
Every year, by the end of this day, some of them will find that their wish had not been granted.
(Submission for Las Pegasus Unicon fanfic contest)
(Featured on EQD and included in Twilight's Library)
Chapters (1)