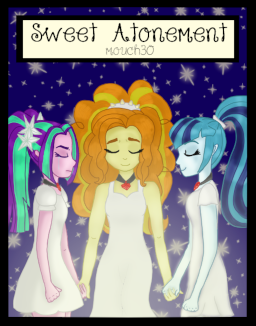 Source
Without their voices, the Sirens can't cast any magic.
And without their magic, the Sirens can't survive.
Adagio is well aware of this, and even though Aria abandoned them, she's trying her hardest to take care of Sonata - she knows it won't be long before they succumb to their hunger and starve.
There's only one person who could help - Sunset Shimmer. But would Sunset and her friends be willing to help, after everything the Dazzlings had done? Will the Sirens find a way to survive, and finally get their sweet atonement?
---
Spin off story: Aria Ablaze
---
Cover art by me.
Rated T for mentions of sex and swearing.
This fic was inspired by 'Sweet Atonement' by Xandria. I'm only using the title because I think it fits really well and I like the song.
Chapters (11)