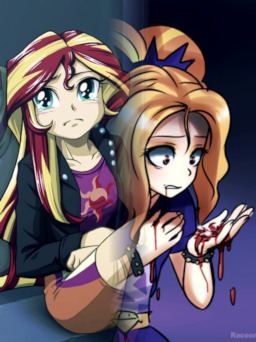 Two weeks after the Rainbooms defeated the Dazzlings in the battle of the bands, Adagio Dazzle finds herself alone and powerless, struggling to keep herself together. Her entire world has been torn down: her sisters abandoned her, and to make matters that much worse, she has no money, and no place to live: the siren queen, crudely forced into a place that she's never been. Homeless, starving, broken. The future, so far, has held no good for her.
Sunset Shimmer, on the other hand, has had a wonderful few weeks with her friends. Everything is going perfectly: some say she's "the girl with everything". But truthfully, Sunset's life isn't all that everyone assumes it to be: everybody has secrets, and some are bigger than others.
After an unexpected encounter, Sunset and Adagio find themselves living together, tacking yet another secret onto Sunset, and making life even more difficult for Adagio. But in the end, we all must rebuild from the destruction that is our lives.
Chapters (2)