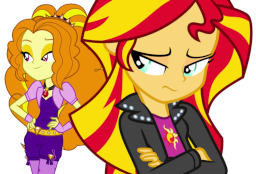 It's the first day of Spring Break, so the Rainbooms and the Dazzlings decide where better to spend it then at the beach? While there, Sunset is asked by Adagio if she'd be willing to see something alone with her.
Why does this request both excite and terrify Sunset at the same time?
Many thanks to a bunch of wonderful people who aided me in this endeavor. Thanks to Harmony Charmer for all of her support in the creation of this fic, BRyeMC for the edits, Calm Wind for the cover art, and all those who read the fic and told me that they enjoyed it.
Chapters (1)