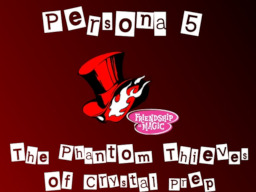 Idea by Haseo55.
---
After trying to stop a man forcing himself on a woman, the police arrived at the worst possible time and arrested you instead of the real crook. Now you have a criminal record and got expelled from your school because of it, your parents shipped you off to Canterlot to live with a family friend and attend the only school that will accept you: Crystal Prep Academy. Once you arrived, you learned the only reason their principal, Abacus Cinch, accepted you was to reform you and reintegrate you as a member of society, something that Canterlot High didn't do.
But as your first day began, strange things started occurring; psychotic breakdowns, mental shutdowns, and a disturbing new world that has a link to it all. Soon you and your new friends at CPA will discover that you all have the power to stop this madness and solve the mystery of who's behind it all.
The power of Persona.
Author's Notes:
Tags will be updated as the story continues.

The original idea is from Haseo55 after reading a forum post on Persona: The Group.

EDIT: New cover art provided by TheLannistersBanjoBard.
Chapters (4)