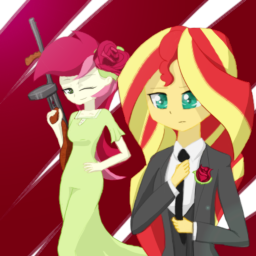 The Crystal Mirror brought Sunset Shimmer not to the steps of Canterlot High, but to another world all together. She meets Roseluck, a prisoner in her own home trapped beneath the authoritarian rule of her father, and the two embark on a journey of love and bank robbing as they search for somewhere they can truly be free.
---
Written for Oroboro's Sunset Shipping Contest: Changing Seasons
Set in an alternate Equestria Girls universe based on the early 1930's.
The word limit for the contest was 10,000, but after checking with Oroboro, I was told that it was a loose limit and not to go overboard. Hopefully this is not overboard.
Chapters (1)