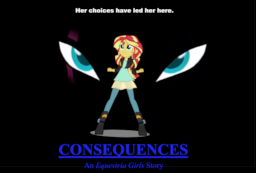 This story is a sequel to In the Days That Followed
---
After dealing with everything from attempted murder, to personal tragedy, to survivor's guilt, Sunset Shimmer and her friends find themselves trying to stay out of the way of a government agent brought to the city because of recent events.
With the portal to Equestria closed, and something very angry lurking in the woods surrounding the city, the seven friends will find themselves dealing with foes old and new, a mystery that could threaten everyone in the city, and an impossible and unacceptable choice.
---
Part 3 of The Repercussions Trilogy. Updated Thursday-Sunday.
Featured on 1/13/19
Chapters (27)