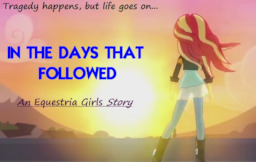 This story is a sequel to Repercussions
---
Following the events of Repercussions, Sunset Shimmer and her friends try to get their lives back to normal. But they're finding "normal" a little hard to come by. And little do they realize that recent events have attracted some unwanted attention.
NOTE: This is not the promised sequel to "Repercussions." This story will be more a collection of scenes and vignettes following up on the immediate fallout from that story. Reading "Repercussions" is strongly recommended before reading this story.
Updated as daily as possible.
Chapters (6)