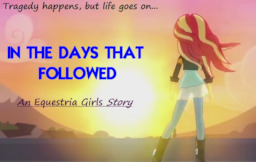 This story is a sequel to Repercussions
---
Following the events of Repercussions, Sunset Shimmer and her friends try to get their lives back to normal. But they're finding "normal" a little hard to come by. And little do they realize that recent events have attracted some unwanted attention.
It is STRONGLY recommended that you read "Repercussions" before reading this story.
Part 2 of The Repercussions Trilogy.
Chapters (23)