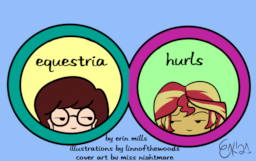 Graduation day was supposed to go smoothly. Sunset Shimmer and her friends were NOT expecting the plinth that holds the portal to Equestria to suddenly explode with rogue magic.
Dealing with the problem is only the beginning, as Sunset discovers when, testing the portal to see if it still works properly, finds herself not in Equestria, but a completely different world from either of her own. And as she'll soon discover, the magic has once again come here with her.
To a little slice of suburban hell called Lawndale...
---
A crossover with MTV's Daria.
Illustrations by Linnofthewoods.
Title card by Miss Nightmare.
Chapters (2)