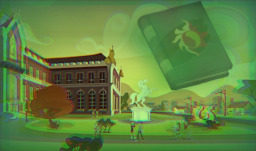 After entering the mirror portal and enrolling in Canterlot High School, Sunset Shimmer is on the perfect track to have Equestria on its knees in two years time. However, she was beaten to the punch; an army is building ranks right in front of CHS, and they see a fresh world to conquer all around them. Finding herself at the last stand between defeating the Changelings or allowing a second invasion, she is forced to decide what type of person she wants to be, and what future she truly deserves.
Unfortunately, there is little time left for either.
---
An AU which diverges at the Canterlot Wedding, set two years before the first EQG movie. Cover art by me. Enjoy!
Chapters (18)