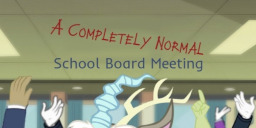 One week after the Fall Formal, an expulsion trial is held to determine if Sunset Shimmer should be allowed to continue enrollment at Canterlot High. Unfortunately, her fate rests in the hands of a few select members of the Canterlot High School Board of Education, as well as a rookie police officer and the new school psychologist. And some of them are quite tired of cleaning up her mess.
Here follows the completely normal deliberations between an egotistical nephew of the principal, a worn-out gentleman, a cheap businessman, a cranky grandmother, a seemingly unaffiliated cop from across town, and a man who is totally not a reality-bending ancient draconequus in disguise.
One of them isn't going to make things easy.
Chapters (11)