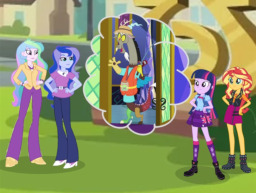 This story takes place during Friendship is Magic season 6 and the day before the Equestria Girls set off for Camp Everfree.
It's the last day of term and Principal Celestia and Vice-Principal Luna are kicking back for a few hours peace after a stressful school year.
Suddenly there's a ring at the doorbell, but they don't have a doorbell.
Who has come to see them, and why?
Chapters (7)