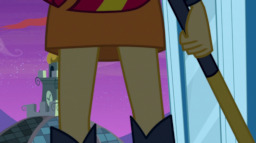 [Equestria Girls/Bully Crossover]
Canterlot Academy is hailed as one of the best private schools in the country, but the people who say that are only talking about the academics and not the social elements; random acts of violence, vandalism, rampant bullying, segregation, tribalism, elitism, and that is just a fraction of all the problems plaguing the place.
That is the world Sunset Shimmer found herself in after she crossed the portal back in Equestria, and to make things worse, in order to blend in with the hairless apes that happened to be the dominant species of this alternate reality, she was turned into a hairless ape herself; in order words, she had no horn to channel her magical energy and cast the spells she had relied on for so many years.
How can an unicorn-turned-human survive in a cruel world completely devoid of magic?
---
Warning: This is an Equestria Girls fanfic with Equestria Girls characters that takes place in an universe similar to that of the game "Bully", so playing it is NOT mandatory in order to follow the story.
Chapters (8)