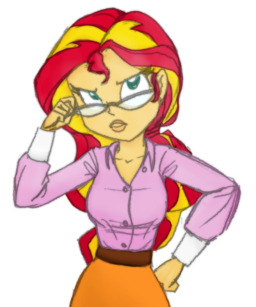 Be it fate or destiny, two people managed to find each other. One, a man who is the last of his kind and the other, a girl whose true nature is different from those that surround her. Both believing that they are alone, finds each other giving each other the love and support both need.
It has been several weeks since the truth about Anon a miss has come to light, and a week since school started back up. Everything seems to have gone mostly back to normal other than a few things, yet something seems to be missing. Everyone is worried about Sunset Shimmer, the girl who was blamed for the whole thing prior to the holidays as she hasn't been seen since the real culprits came forward and accepted responsibility for their actions. She hasn't been seen since the night three young girls admitted that they were the cause of all the pain and turmoil the fiery haired girl suffered through during the holiday season.
A new year brings new changes though as not one, but two new teachers are starting along with a transfer student. Rumors claim the teachers are married and that the student is their daughter, but nobody is for certain as rumors fly back and forth until she appears. The school's newest literature teacher, a woman who can't be more than twenty five looking like an older version of Sunset Shimmer. Is she just their world's version of Sunset Shimmer, or is there something else going on? And why does the transfer student seem to hold a grudge against Sunset's friends despite never meeting?
Chapters (2)