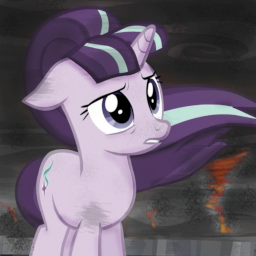 Starlight Glimmer destroys Equestria when she learns how and why she actually lost her soulmate, Sunburst. Trying to fix her mistake, she learns time travel done right can lead to a revelation of the heart—and maybe even to the renovation of harmony itself.
---
A more challenging route to possible redemption for Starlight Glimmer in The Cutie Re-mark.
---
This is not a sequel to Lesson Learned, but Bedroom Interlude is a sequel to this story. The backstory in this story inspired The Enforcer and Her Blackmailers.
Chapters (1)