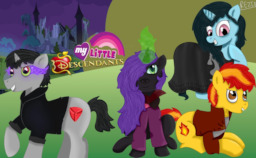 Source
Nearly twenty years ago, Equestria's most infamous villains were rounded up and banished to an island smack in the middle of the Eastern Sea, halfway between the Equestrian Continent and the Griffin Empire. While the citizens of Equestria lived in the lap of luxury, the ponies of the Isle survived in poverty and eternal famine.
Now, four foals of the Isle are chosen to return to Equestria, and are given a shot at a normal life. Their parents, however, see it as a chance to escape and get their revenge. Now these children have a choice to make. Will they prove themselves to their parents as the baddest of the bad, or will they abandon everything they've ever known for the sake of writing their own stories?
Unfortunately, the audio drama has been canceled.
*EDIT* Now being edited by Darkie 09.
*EDIT 2* Cover Art by Rezio.
Yet another parody. Descendants because I'm Disney trash. This story heavily features OC's, all created by me most are created by a friend of mine, except for Nyx, who belongs to Pen Stroke. The only things I own are my OC's.
Chapters (9)