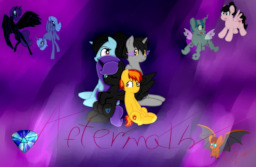 Source
This story is a sequel to My Little Descendants
---
Aftermath: something that results or follows from an event, especially one of a disastrous or unfortunate nature.
It's been a month since the events of My Little Descendants. The Island foals are slowly adjusting to life in Equestria, but a lifetime of villainy takes it's toll, and scars take time to heal. But that's nothing they can't handle.
Right?
As loose ends tie themselves, they learn, what comes after is sometimes harder than what came before.
Edited by Stellar Blaze.
Stories Within the Story
Daughter Of The Moon: Nyx has discovered that Nightmare Moon isn't her real mother, merely the mare who raised her. But how is that possible when the mare who claims to be your mother has been "dead", or at least missing, for a millennium?
A Sister's Love: A sister's heart knows no bounds, but how far must she go when life calls for the unimaginable?
Chapters (2)