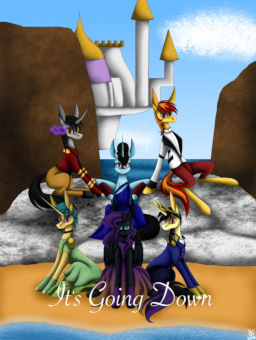 Source
This story is a sequel to My Little Descendants
---
After nearly six months living in Equestria, the resident villain foals are finally settling into their new home. Lady has built a fashion business based in her dorm, Shade has earned a spot as captain of the new fencing team, and Flare has his eye on a certain filly. For the first time, they're happy.
At least, most of them are.
In order for Nyx and Will's relationship to continue, the filly must learn the ways of royalty and be officially presented as a mare (and Princess) of the Equestrian Court, something that would've happened when she was thirteen, had she been raised by her real mother, Luna.
However, the transition is harder than she expected it to be. She tried everything she could think of, learning the traditions, words, poise, looking the part with different clothes, makeup, and even hair, and acting like the perfect princess she's supposed to now be. But what happens when she can't keep up the act?
Cover art by the lovely Sakura!
Chapters (4)