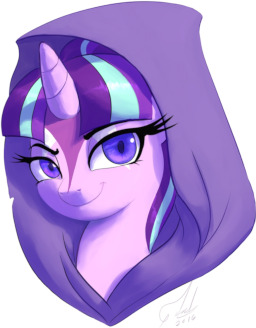 Source
This story is a sequel to The Runaway Bodyguard
---
Starlight Glimmer's past and future collide in Canterlot a few years before the 1000th Summer Sun Celebration. Still bruised by the loss of Sunburst, runaway Starlight Glimmer tries to forget her recent past at Celestia's School for Gifted Unicorns but the crimes of that past and Celestia's original protégé, Sunset Shimmer, make that difficult. What happens will change Equestria forever.
---
Prequel published 3/19/21. Sunset Shimmer Goes to Hell is a sequel (mostly) to this novel from Sunset Shimmer's point of view. The Forgiving Lesson is a sequel to The Crystalling and this novel.
---
Image (c)2016 by Riakoh-Illust, commissioned for this story. (Click source to see final artwork.)
---
¡Muchas gracias! to DoContra for his heroic work as a pre-reader.
Chapters (35)