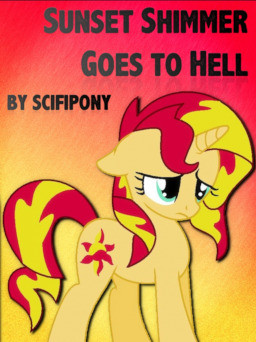 Source
Sunset Shimmer, while still Celestia's personal student, learns that there's some places you don't want to go, but love will make you do strange things. That and time paradoxes and magic storms.
(Sequel short story about Brandywine: Prance
---
This story is written to be standalone. Minor tag [SciFi] for Time Travel. This novel appeared as an Equestria Daily fan fiction Sunset Day - Fanfic Submissions! post for Sunset Shimmer Day Sept 22rd, 2016.
---
For those who are interested, the story explains what took place between the events in Celestia and the Battle for Sunset and The Enforcer and Her Blackmailers. If you read those two stories first, your fun will be doubled!
---
2/3 Added Starlight Glimmer tag for a supporting role. 2/25 Added Princess Celestia tag for a supporting role. 3/3 Added Timberwolf tag for obvious reasons. 3/26 Added Lord Tirek for S2 episode tie-in. 4/1 Switched out the Celestia and Timberwolves tag for Twilight and Fluttershy in the final chapters, because... read the story.
---
A big shoutout to Docintra my prereader. Thank you!
Thank you Novel-Idea for editing the anonymously posted image (click source mouse-over on image) I used as a cover into a real SF pulp fiction style cover!
Chapters (32)