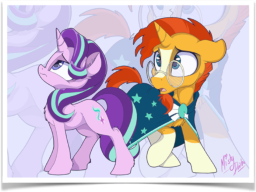 Source
This story is a sequel to The Enforcer and Her Blackmailers
---
After the crystalling, after the banquets, after the private party, Starlight gets her chance to be alone with Sunburst. They realize that they share two things in common: their friendship and a different perspective on what happened that day he got his cutie mark. It leaves the closeness Starlight desires in peril.
---
While it contains minor spoilers for The Enforcer and Her Blackmailers, the story was written to be enjoyed standalone. It is set in Season 6 Episode 2 after the crystalling and before the train ride. It is intended to be in-canon, and should remain so until such time as we meet Starlight's family. Rated Teen for innuendo.
---
Cover Art (c)2016 by Misty Dash. Hover over the cover image and click SOURCE to display Misty Dash's Deviant Art page.
Chapters (1)