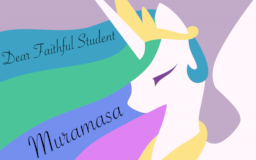 Twilight Sparkle and Sunset Shimmer are the only two living ponies in the world that can lay claim to one of Equestria's most prestigious titles: the protege of Princess Celestia, ruler of the land of Equestria and perhaps one of the most powerful magic users to ever walk the face of the planet.
However, they are not the first: since Equestria's medieval ages, Celestia has held pupils under her tutelage. Some of these pupils went on to do great things, while others fell prey to their own ambition and power, but even though those students have been dead for years, Celestia still remembers every name that came before.
Her reminiscing becomes more than memories, however, when her very first pupil shows up on the castle steps. One by one, Celestia's former students begin to appear in the prime of their youth, their minds seemingly leaving off right after their deaths. It's up to Twilight Sparkle and Sunset Shimmer to find out why these ponies have risen from the dead, and what they're being drawn to...
---
Rated T for sexual references, profanity and violence.
Featured on 4/14! Thanks everyone!
Chapters (31)