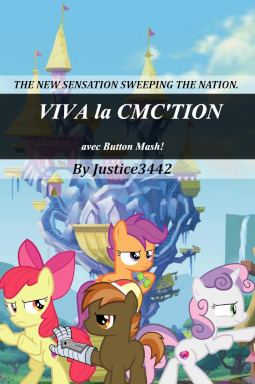 This story is a sequel to The SweetieMash Chronicles
---
The Crusaders and Button Mash have all suffered a potential life-changing setback! Do they A: Try to calm down and think about how to best move on. B: Talk to their family and loved ones about how to deal with adversity. C: Freak the hay out attempt to leave pony society to eventually become misguided villains that will someday threaten Equestria itself.
The answer may (not) surprise you!
Warning: Contains Spoilers for My Little Pony: The Movie.
Thanks to Tired Old Man
for his edits and corrections and Nova Quill for much the same AND some help with the cover.
Edited (by yours truely) CMC vector by jhayarr23. Button Mash vector by clamstacker.
Chapters (4)