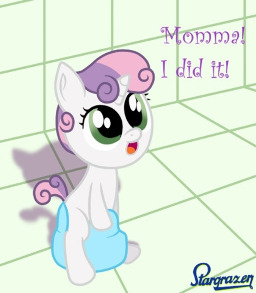 Source
(Idea suggested by Latecomer. Rated Teen to be safe, but content should be mostly G/PG. Coverart was best I could find on the subject. Fetish tag added by moderator.)
Potty training is something that everyone goes through at some point. Some more than once. No two stories are exactly the same, though. Some ponies take a shine to it, others are more hesitant. But sooner or later, all must face the monumental development.
The same holds true even for those in another world. And their methods of learning are just as full of trials and tribulations as of that their pony counterparts.
This collab presents a collection of stories from authors revolving around this crucial concept in a young one's life. Some stories will be short and others long.
Guaranteed to provide your daily dose of cuteness, with some comedy on the side for some entries, and even a bit of drama for others. All stories will be labeled accordingly. Newcomers are always welcome.
Wanna join? Check out the rules and available characters at the official collab entry pages: Entry Page 1, Entry Page 2. If you want to just debate ideas without necessarily turning them into prompts or stories, check out the general promotion and ideas threads here and here.
Chapters (145)