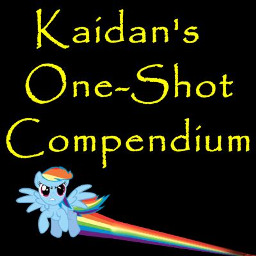 A collection of all my one-shot stories. From the comedies for everyone, dark tragedies, to sci-fi crossovers, and featuring a dozen story prompts from friends. You'll find a great collection of my short stories from 2013 onward here.
The mature volume of my one shots is called: Kaidan's One-Shot Compendium: Mature
Featuring: a short-story on a hang-over induced septuple body-swap, A Warhammer 40k crossover, Fluttershy visits an Animal Farm, Rainbow Dash makes homemade fireworks, and more!
Each story has brief tags at the top to alert you to the content, and short tags in the title:
E, T, or M for Everyone, Teen.
Genre tagged by first two lettrs. Comedy = Co
A Sex or Gore tag, if applicable.
ex: T/Co/Sex = Teen Comedy Sex.
*Formerly 'What If'? stories. Editors attributed in the A/N by chapter.
Chapters (29)