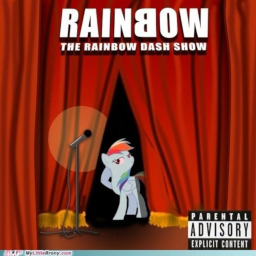 Rainbow Dash receives a letter from her "biggest fan", who wants more than anything for Rainbow Dash to write back to them. All they wanted was a letter... But does Rainbow Dash do it on time?
Suggested official rating: PG-13 for disturbing themes
SPECIAL THANKS to Eminem and his song, "Stan", for inspiring me to write this story. Eminem, I doubt you'll ever see this, but if you do, I just wanted to say that you're awesome.
Also a special thanks to whoever made this picture, I give you credit for that. It's awesome.
Chapters (1)