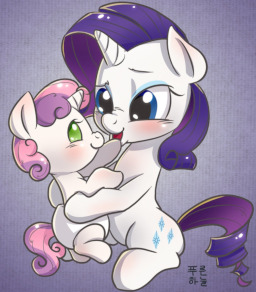 Source
With pass of time Rarity looks more and more busy with her boutique and Sweetie Belle misses a lot those days when she spent time playing with her. That's why one Saturday afternoon after finishing all her homework in Rarity's house, Sweetie proposed to her big sister to play a little game with her, pretending Sweetie Belle was a baby again, something that simply sounded really stupid for the fashionista pony. The poor filly felt really disappointed but probably she is going to find a good way to return to those lovely moments when they played together.
Thanks to Squigges for being the editor of this story and also thanks to mrs1989 for approving the usage of his art in this story.
Warning: This story contains references to diapers and diaper usage, if you're not into it please stop reading.
Chapters (1)