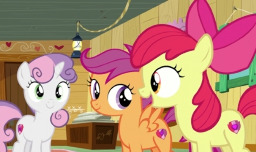 Source
(Warning!: This fic has been rated Teen as a precaution as it will contain diapers and diaper useage. Please read with discretion or click elsewhere if such material is outside your comfort zone. Thank you. Story idea requested by superfun. Takes place prior to any events in Season 9.)
Diamond Tiara and Silver Spoon decide to make a friendly wager with the Cutie Mark Crusaders one day, a race to Sugarcube Corner where the losers must do whatever the winners ask of them. The Crusaders accept.
When Diamond Tiara and Silver Spoon lose the race they reluctantly agree to the terms of the bet and place themselves at the CMC's mercy. As it turns out the CMC's idea is to have their friends test out a regression potion that will turn whoever drinks it into foals for a week.
Despite some reluctance the two rich fillies agree, Diamond largely for the sake of having a better foalhood and Silver so she can be with Diamond to offer support. But are the CMC up to the challenge of raising two foals? And will Diamond and Silver's foalish tendencies take over?
Chapters (5)