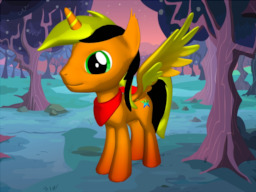 Title Change very unlikely. Please PM me suggestions. Cover Art is also temporary but is of Lightning Sunrise.
Harry Potter, adopted as Lightning Sunrise, has spent from age 1 to 11 growing up somewhere other than with the Dursleys. How will this change things? Especially given he's a pony-adopted and raised changeling now.
Note: Death and Violence tags are for the opening and sparingly elsewhere.
Woo! Featured on both 2/22/2022 and 2/23/2022 for like 3 minutes each.
Chapters (25)