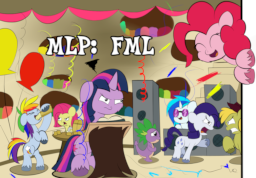 Source
An insane and illogical parody of your favorite ponies.
Are you looking for a story about the magic of friendship or how great it is to be alive? Too bad! What you're getting is a story about a bitter bookworm named Twilight Sparkle who just got booted out of Canterlot and is forced to go to a little backwater town named Ponyville in order to get some sort of social life.
Will she enjoy it? No. Not at all.
Rated Teen for strong language, cartoonish violence, immature humor, and god-awful jokes.
Sex tag is for repeated mentions of sex, sexual activities, and Rainbow Dash. Just...Rainbow Dash in general.
Cover Image by the very talented Wadusher0.
Now on TV Tropes!
Chapters (78)