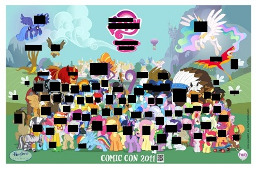 If we couldn't use copyrighted material we couldn't write fan fiction, right?
Answer: Of course we could, We just have to tip toe around certain words and phrases. This is an example of such a fic. This is loosely based off of "Party of One."
Everyone is out of character or extremely warped.
This was written based on very ignorant understandings of how the SOPA/PIPA thing works.
I shouldn't have to explain who is who in this story.
Chapters (1)